Moorea and Bora Bora Sampler

Moorea and Bora Bora Sampler
Turquoise waters, emerald vistas and pearly corals make our Moorea and Bora Bora Sampler a breathtaking masterpiece. Uncover the spectacular bays, white sand beaches and crystalline lagoons of Moorea, a South Pacific gem. Unearth Bora Bora, getting up close and personal with reef sharks, snorkeling off the shore and basking in the sun, the perfect way to spend your days in this picturesque paradise.
Your Itinerary Includes:
Meet and greet service on arrival
Roundtrip airport transfers
1 night Papeete
3 nights Moorea
Circle Island Tour
3 nights Bora Bora
Ultimate Shark and Ray Watching tour
Meals: 1 breakfast, 1 lunch
Adventure and Active
Educational and Learning
Family Vacations
Luxury
Romance and Honeymoons
Safari, Animals, and Wildlife
Spa and Fitness Trips
Sun and Sand
December 01, 2022
through
March 31, 2023
Itinerary Map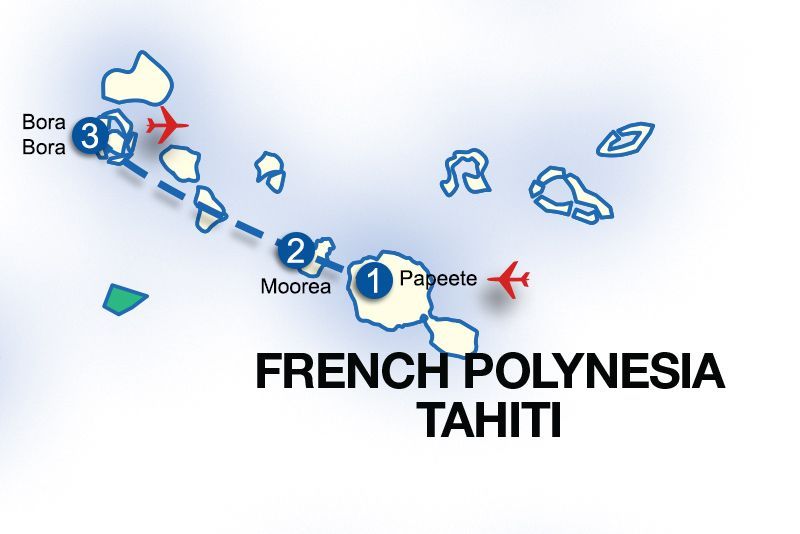 Loading Itinerary Content...
Additional
Offers

December 01, 2022

to

March 31, 2023

July 01, 2022

to

October 31, 2022

November 01, 2022

to

November 30, 2022
Swain Destinations: Moorea and Bora Bora Sampler

Manava Suite Resort,Superior, Papeete
Manava Beach Resort & Spa Moorea,Superior, Moorea
Le Bora Bora by Pearl Resorts,Superior, Bora Bora


Standard (3*) to (3 1/2*) Offering limited facilities and services, these are moderate rooms with private ensuite bathrooms that offer exceptional value for money for the price conscious traveler.

Superior (4*) to (4 1/2*) These hotels are typically better equipped with more comfortable accommodation, and are often in a fairly central location to major sightseeing.

Deluxe (5*) Boasting luxurious and spacious surroundings, these accommodations offer the highest level of international quality accommodation and service. Typically with exquisite décor, exceptional service and superb award winning restaurants.

Luxury (5*) + Premier accommodations in choice settings offering exquisite surroundings, the finest guest services and indulgent amenities. These properties are often one of a kind and are ideal for discerning travelers.
Swain Destinations: Moorea and Bora Bora Sampler

Inner Island 4x4 Safari
Enjoy an exciting full day adventure to the inner areas of Papeete. Discover all the lush vegetation of the island with its giant ferns, colorful plants and much more. Cross rivers, pass waterfalls and pure mountain streams. Enjoy a picnic at ?La Maroto? while looking at the panoramic views of the valley. Then, visit archeological sites and learn about the flora and fauna of the region.

Papeete City Tour
This half day city tour visits Papeete?s Market Place, the Cathedral, Vaima shopping centre, the City Hall and the Black Pearl Museum (operates Monday ? Saturday).

Tahiti and Her Tropical Treasures
Delve into Tahiti?s past on a complete tour around the island. Visit The James Norman Hall Museum, one of Tahiti?s famous resident authors and co-author of Mutiny on the Bounty. Travel to Tahara?a view point; see Arahoho Blowhole ? a popular attraction in the north coast, Vaipahi Gardens, the Mara?a Fern Grottoes and the Museum of Tahiti and Her Islands (operates Monday ? Saturday).

Circle Island Tour with Belvedere
Moorea which means ?Yellow Lizard? in Tahitian is a triangular island with the northern side punctuated by two large bays ? Cooks and Opunohu. Stop at a Pineapple plantation to learn about this famous and most important resource on Moorea. Then, continue to the Belvedere, with a stop at a ?Marae? (ancient open air temple) to learn about the ancestral customs. Arrive at the Belvedere area and experience the panoramic views overlooking the Cook and Opunohu Bays and over the Ratui Mountains. Also enjoy a visit to the Agricultural School and discover the variety of local fruits, trees and flowers (operated Monday ? Saturday).

Cook?s Bay Sunset cruise
Join this 1.5 hour sunset cruise at Cook?s Bay. With Polynesian musicians on board, sip a cocktail or soda as you watch the sun set in this beautiful and romantic setting.

Dolphin Encounter
This very special program is sure to bring out the kid in everybody! The experience will be divided into segments that will be filled with fun, education, hands on contact and adventure. Meet amazing dolphins and enjoy their grace and agility. Knowledgeable trainers will provide information about Atlantic Bottlenose dolphins ? from anatomy to behavior and habits. Equipped with life vests and masks, join the dolphins in their element and enjoy 30 minutes of water time with these creatures.

Tiki Village and Tahitian Feast
The Tiki Village provides the opportunity for visitors to see and experience an old Tahitian village where families live and work. Start with a delicious Polynesian buffet, followed by a highly charged show in the open-air theatre, with Tahitian girls dancing to the sound of a frenetic drum beat in the glow of twirling torches (operates Tuesday, Wednesday, Friday and Saturday).

4WD Safari Tour
Travel by 4WD for great views of Bora Bora?s natural harbor and Matira Beach. The climax of the trip is the view of Faanui Bay from a traditional plantation high up in the mountains. This is a true off-road 4WD excursion, traveling in Land Rovers to places only accessible to these special vehicles so that the best viewpoints of the island will be reached.

Shark & Ray Snorkeling Safari
Explore Bora Bora's underwater environment on board a comfortable boat and swim amongst the colorful fish, sharks and stingrays in their natural habitat in the coral gardens or their favorite place in the Bora Bora lagoon.

Shark Watching and Lagoonarium Tour
Travel around the island of Bora Bora by outrigger canoe and make a stop near the reef to wait for young sharks. Equipped with snorkel gear, enjoy the underwater view of those sharks and the colorful corals. Then travel to the natural lagoonarium. Each kind of tropical fish has their own park: Rays and sharks, turtles, giant mussels, lobsters and many varieties of multi-colored fish. Take some time to walk around this small island before returning to your accommodation.


About Swain Destinations

Customizing the travel experience, Swain Destinations is the leading U.S. provider of completely personalized exotic vacation experiences. Since 1987, Co-Founders Ian and Linda Swain, and their dedicated team of destination experts have offered American travelers the opportunity to design distinctive trips to intriguing international locales, including Australia, New Zealand, the South Pacific, Asia, India, and Africa. From adventure-packed trips to leisurely getaways, Swain Destinations curates itineraries based on each individual's travel preferences. Dynamic experiences range from a chef's table dining extravaganza on Hayman to a safari journey across the East African Plains.